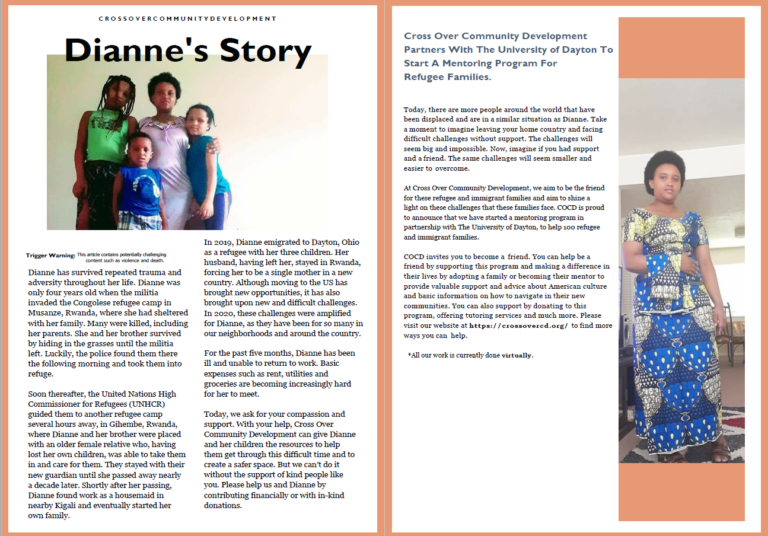 Trigger-Warning: This article contains potentially challenging content such as violence and death.
Dianne has survived repeated trauma and adversity throughout her life. Dianne was only four years old when the militia invaded the Congolese refugee camp in Musanze, Rwanda, where she had sheltered with her family. Many were killed, including her parents. She and her brother survived by hiding in the grasses until the militia left. Luckily, the police found them there the following morning and took them into refuge. 
Soon thereafter, the United Nations High Commissioner for Refugees (UNHCR) guided them to another refugee camp several hours away, in Gihembe, Rwanda, where Dianne and her brother were placed with an older female relative who, having lost her own children, was able to take them in and care for them. They stayed with their new guardian until she passed away nearly a decade later. Shortly after her passing, Dianne found work as a housemaid in nearby Kigali and eventually started her own family.
In 2019, Dianne emigrated to Dayton, Ohio as a refugee with her three children. Her husband, having left her, stayed in Rwanda, forcing her to be a single mother in a new country. Although moving to the US has brought new opportunities, it has also brought upon new and difficult challenges. In 2020, these challenges were amplified for Dianne, as they have been for so many in our neighborhoods and around the country.
For the past five months, Dianne has been ill and unable to return to work. Basic expenses such as rent, utilities and groceries are becoming increasingly hard for her to meet. 
Today, we ask for your compassion and support. With your help, Cross Over Community Development can give Dianne and her children the resources to help them get through this difficult time and to create a safer space. But we can't do it without the support of kind people like you. Please help us and Dianne by contributing financially or with in-kind donations. 
Today, there are more people around the world that have been displaced and are in a similar situation as Dianne. Take a moment to imagine leaving your home country and facing difficult challenges without support. The challenges will seem big and impossible. Now, imagine if you had support and a friend. The same challenges will seem smaller and easier to overcome. At Cross Over Community Development, we aim to be the friend for these refugee and immigrant families and aim to shine a light on these challenges that these families face. COCD is proud to announce that we have started a mentoring program in partnership with The University of Dayton, to help 100 refugee and immigrant families.
COCD invites you to become a friend. You can help be a friend by supporting this program and making a difference in their lives by adopting a family or becoming their mentor to provide valuable support and advice about American culture and basic information on how to navigate in their new communities. You can also support by donating to this program, offering tutoring services and much more.
Please visit our website at https://crossovercd.org/projects/
AND
our volunteer page at https://www.volunteermatch.org/search/org1102647.jsp to find more ways you can help.
*All our work is currently done virtually.